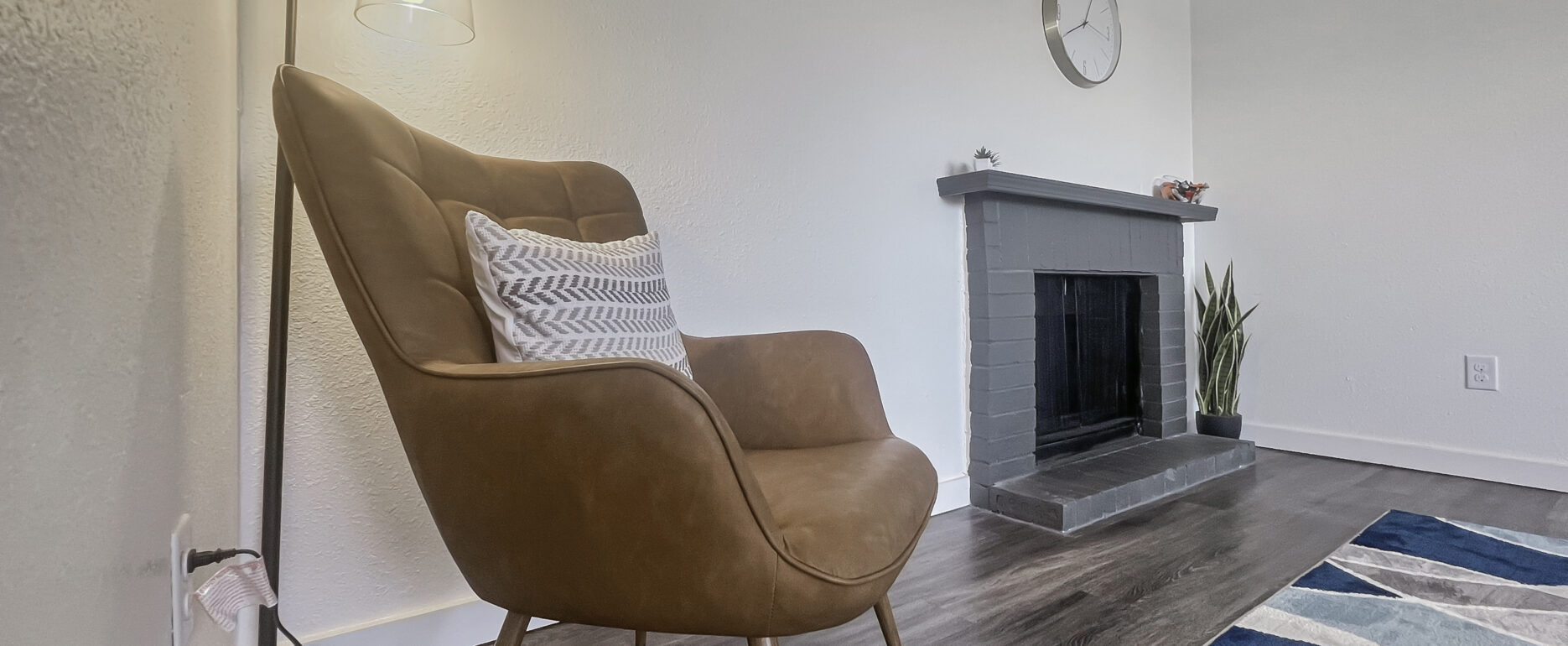 One of the best things about moving into a new apartment is decorating. But you might be afraid to add personal touches due to fear of the damage that would cost you a security deposit.
Fortunately, there are plenty of damage-free ways to express your personality and make your apartment your own. They can be found at local hardware or home improvement retailers as well as online.
Wallpaper a wall. Or two.
Yep, wallpaper! Pillows and throws can add pops of color, but not on the walls. Even most big box home improvement stores sell peel-and-stick removable wallpaper for any type of decor.  And the application is easy because, in addition to being removable, they are repositionable. Before you go out and purchase wallpaper, be sure your walls aren't textured or painted with non-stick paint.
Wall decals offer flexibility.
Just want some accents here and there rather than covering an entire wall? Peel-and-stick decals are your answers. Or, maybe you like to change your decor often. Decals are great because they can just peel off and be moved or replaced for the ultimate flexibility.
Jazz up that kitchen backsplash
Peel-and-stick backsplashes? Oh, yes. If your apartment doesn't have a nice backsplash, take it to the next level with damage-free peel-and-stick. They come in a ton of options, and again, big box home improvement stores stock them. They are a bit time-consuming to put up, and require proper removal, but are well worth the effort. Other options are peel-and-stick vinyl or single tiles that come with glue dots.
Make a washi tape gallery wall
Washi tape, which originated in Japan, is decorative paper masking tape. It's thin, and durable, and it's made of natural fibers such as hemp and bamboo. It's also inexpensive and comes in hundreds of patterns and colors. The tape sticks easily to many surfaces,  including wood, plastic, and metal, and it's easy to remove and doesn't cause damage. You can find it online and at those big-box home improvement stores.
Hang drapes or tapestries
Tapestries and drapes can add color and interest. You can hang them by using Command decorating clips, which are removable and cause no damage. Just make sure whatever you hang isn't too heavy. You can create a makeshift headboard or decorate an accent wall.
Hang some terrariums
Add some plant life with hanging terrariums. Succulents are one of the best plants for apartment living because they're really easy to maintain and they look really cool hanging from your ceiling. Whatever plants you use, make sure you find something that won't outgrow the terrariums or buy artificial plants. To hand them, use Command ceiling hooks, but keep in mind that these only hold a half pound, so find very small terrariums like these. Command hooks can be found almost anywhere, including office supply stores.
How about some paper lanterns
If your style is delicate and feminine, paper lanterns could be just the thing, and they come in many shapes, colors and sizes. They are very lightweight, so Command ceiling hooks work perfectly. Use twine, ribbon, or string to hang them – whatever suits your style. You can also find paper lanterns that have battery-operated lights.
String lights add ambiance
Whether they're your bedroom, your living room, or, even in your kitchen you can't go wrong with some string lights. Drape them on a tall plant or around a window, and check out this Buzzfeed list of ways to use them. Keep in mind that battery-operated lights give you more options, and once again, you can use Command hooks if they aren't being draped over something.
How to hang posters and lightweight objects
Command to the rescue again! You can hang lightweight items like posters and unframed art with strips and hooks.
If holes are allowed and unavoidable…
If you're allowed to make holes in the walls, when you leave, you're still going to have to spackle, sand and paint. You can save yourself time and trouble by using Monkey hooks. These are heavy-duty wall hangers that install into drywall with no tools. They are J-shaped hooks that can hold up to 50 pounds that leave only a tiny, easily-filled hole in your wall. They work best for frames and other items like bulletin boards with tabs or wires that can attach to the end of the hook.
As you can see, there are a lot of options that will leave your walls with no or very little damage that you'll have to fix when you move. Maybe these ideas have even sparked some of your own. Have fun!