Keeping children's toys picked up and organized seems like an uphill battle. Apartment space can be limited and with the risk of damaging walls, options are few. With the right tips, tools, and tricks, you can make clean up time simple and tidy.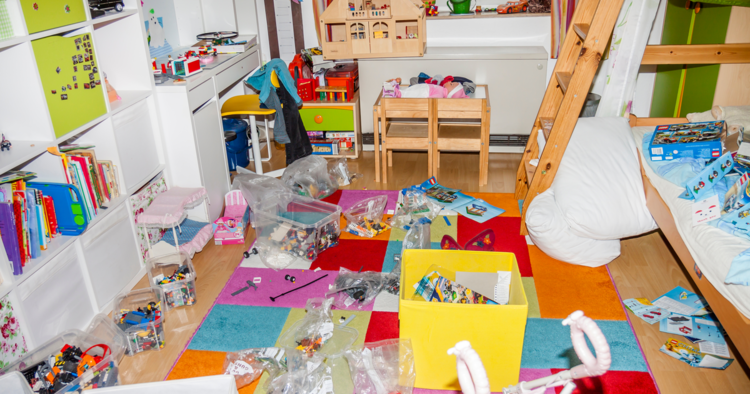 1. Start with Organizing and Decluttering
The first step in creating a nice space for your children to play is to get rid of toys they aren't interested in anymore and organize the ones they play with the most. Not only does this make it easier for your kids to find the toys they want to play with, but it makes cleaning up easier too.
To maintain organization and limit clutter, give your kids a clean up box. When they are picking up toys and don't know where one is supposed to go, tell them to put them in the box so you can show them where it goes when they're finished. This idea also helps if the kids are in a hurry to clean up. All the toys left out can go in the crate for them to put away at a later time.
Pro tip: You can also store some toys in a tote elsewhere, and change them out periodically making them feel like their toys are always "new."
2. Purchase Drawers and Shelving
A wide variety of storage options are available at department stores. Plastic drawer sets come in different sizes and colors to fit your needs.
Utilize labeling and organize the toys into each drawer such as cars, people, animals, and cooking. The drawers are often clear, which opens up the opportunity for personalization and decoration. Use stickers, adhesive drawer liners, or paint to add a touch of class and color.
Another alternative is fabric cubes, which can be placed on bookshelves or other shelving units. These are good for storing bigger items such as barbies, dolls, and action figures.
Use labels to mark on the shelf below what's in the cube, so your kids can know where to put it back when done playing. If you have a young child who isn't able to read yet, get creative with labeling and either draw picture labels yourself or find them in magazines.
3. Make Special Storage for all the Stuffed Animals
Stuffed animals can start to seem like an avalanche ready to overtake your home.
They clutter up the beds and get scattered all over the house. Keep them all in one place by using netting or fabric as a hammock to store them up and off the floor. Thumbtacks work great to secure the fabric to the wall with minimal wall damage.
If this option isn't ideal, purchase an extra laundry basket and designate it for the stuffed animals.
4. Create Storage Zones in the Designated Play Area
For example, if your child has a kitchen set, use the cupboards for the cups and plates and store the pretend food in the area as well.
Imagine your child's room with different play "stations" and utilize the storage areas within them.
If your child likes to play dress up, find small adhesive hooks to hang up their favorite capes or dresses to create a costume area. Make each part of the room a play area, and use the storage ideas to your advantage.
5. Utilize the Top Shelves of a Closet
Often times the closet gets crammed with things you don't necessarily use, so it inevitably turns into a forgotten mess. Use the top shelving to neatly store things your child needs permission to play with, such as art supplies, games or play dough.
You can place bookshelves or plastic drawers along the floor to create cubbies for shoes and large toys. This way, there's still room to hang clothes, along with extra places to store toys neatly.
There are many ways for creating a unique, well organized place for children to play. Storage is easy to find and the best way to keep toys off the ground. The benefits for the children are outstanding, giving them a space to call their own while teaching them the responsibilities of cleaning up.
6. Spice Shelves Aren't Just Good in the Kitchen
Those shallow shelves can be great for storing night books near the bed, and they add a touch of art to the room. Since these types of shelves are light, you can install command strips to hang them without doing any damage to the wall.
7. Make use of a Leaning Bookshelf
A bookshelf isn't just for books. These cleverly designed shelves offer width and height, so you can use totes or bins at the bottom, and store lighter items near the top like stuffed animals. Just make sure your kiddo doesn't want to monkey their way to the top.
Are you dreaming about moving to a new Edmond apartment with your family? We have a couple of great locations to choose from including: