While decluttering should always be on your to-do list (we see you, Marie Kondo), there comes a time when you simply need storage for what's left. When your Norman apartment is neatly organized, finding what you need is quick and easy. Your supplies and tools are right where you left them. And, you're not spending countless hours looking for your car keys.
Another perk? Each member of the family knows where their stuff goes. This comes in handy when you have unexpected guests arriving within the hour. In other words, life is just easier.
We'll be honest, though. Finding a special place for every item in your Norman apartment can be a challenge in itself. So, we've brainstormed as a team and have come up with 10 great ways to store and organize your belongings. These strategies will help you spend less time hunting and more time doing the things you love! Let's get started.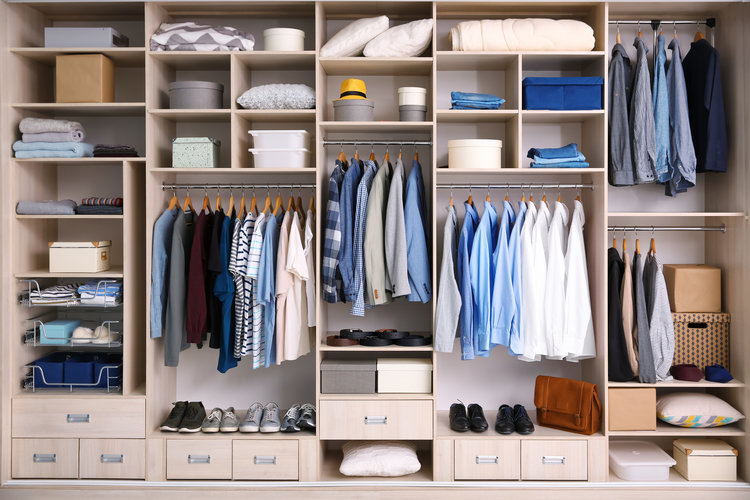 1. Think below the bench.
Looking for a little extra storage space? Direct your efforts below. A row of decorative baskets can easily fit beneath most benches (and even some sofas). To keep a neat looking aesthetic, use a matching set of baskets and don't let their contents overflow.
2. Try cracking the code.
Tired of looking at a pile of scarves, hats or random papers in the entryway? Assign each member of the family (including the dog) one or more bins labeled with a number, letter or color. Even if they're not the best about stashing their stuff away when coming arrives, you'll at least know where to toss it in a hurry. 
3. A tisket, a task it in a basket.
Does your pantry need some extra love? Invest in some wire pantry baskets. Removing the outer packaging from your favorite snacks is a great way to make space. It also makes individual items easier to grab, pack and go!
4. When in doubt, label it.
Do you ever find yourself with half a dozen pasta boxes with just a few strands left in each? It's time to upgrade your pantry. We recommend using airtight glass containers and labels to keep things organized. You can also follow suit for beans, rice and other grains. Take a step further and note cooking times for easy reference!
5. Don't flip your lid.
There are two scenarios that come to mind. One, you open the cabinet door to be greeted by a tower of falling lids. Or two, you find yourself shoulder deep fishing around the crowded cupboard for a matching lid. Show your kitchen who's boss with a wall or door-mounted lid wrack. Having one positioned near the store or their coordinating pots/pans will ensure they're right there when you need them.
6. Pass, up top!
Think of all the wasted space above your kitchen cabinets. Invest in some woven baskets and store any equipment or appliances you don't use on a regular basis. Some examples of these items include holiday dishware, fondue sets or that second toaster you received at your wedding.
7. Think outside the box.
Need a place to stash plastic wrap, foil and cutting boards? These items may be awkward to store, but even they have a special place – a magazine holder! An odd but effective solution, a magazine holder keeps these items within reach without taking up space in your kitchen drawers or cabinets.
8. Shut the front door.
How often are guests peaking behind closed doors? Use an adjustable back-of-door organizer to stash items like shoes, craft supplies and books! (Perfect for kids, we might add. You could also loop some shower curtain rings on an over-the-door towel rack to organize scarves!
9. Hang in there.
Whether you have 20 bathroom products or simply can't find a place to store your child's toys, a tiered fruit basket with an s-hook is a great fix. If you're worried about humidity causing rust, lightly spray the tiered fruit basket with a corrosion inhibitor or anti-rust paint! You can find products like these at your local home improvement store.
10. Bobby pins galore.
Let's be honest, bobby pins make their home just about anywhere! To keep your Norman apartment clear, try using a magnetic paper clip holder. It works infinitely better than its original packaging or in a bathroom drawer.