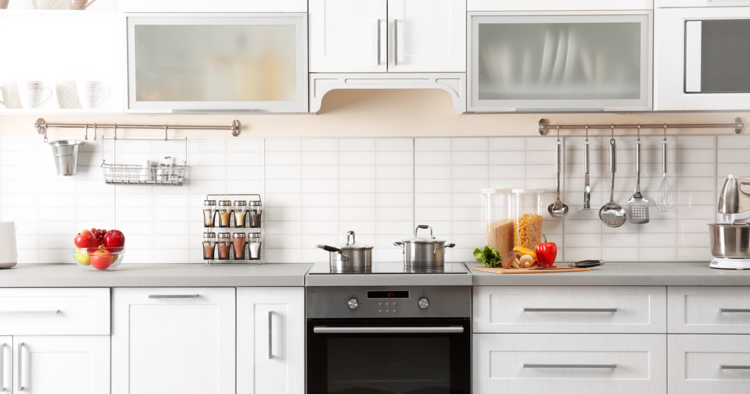 Finally, you've settled into your perfect OKC apartment. However, making it feel like home can be challenging because you can't make permanent changes to the space; on the other, you don't want the apartment to feel cookie-cutter.
The kitchen is often the most frequented room in the home by both you and your guests, and you want friends and family to feel invited and comfortable. To help, we've outlined some damage-free ways to transform your kitchen space into a place you're proud to call home all while not risking losing your deposit.
Stick with a Theme
Always start a kitchen transformation with a theme. Following a pattern or a certain color scheme will make your kitchen transformation clean and tasteful.
Your theme can be based on objects or certain colors. Take some of your favorite existing decorations and base a theme from there. If you have a preferred color, try to think of objects and appliances which can be replaced to incorporate your desired result.
Use Adhesive Hooks
One of the more practical tools when aiming for a way to hang decorations without damaging your walls is the use of adhesive hooks.
A wide variety of brands are available which vary in size, color, and purpose depending on your specific needs. Some brands offer adhesive pads which can be easily removed and replaced by using the same hook.
With these removable hooks, you can have a place to hang your apron and display stylish potholders to add an element of decor by showing off practical things that can be used as well.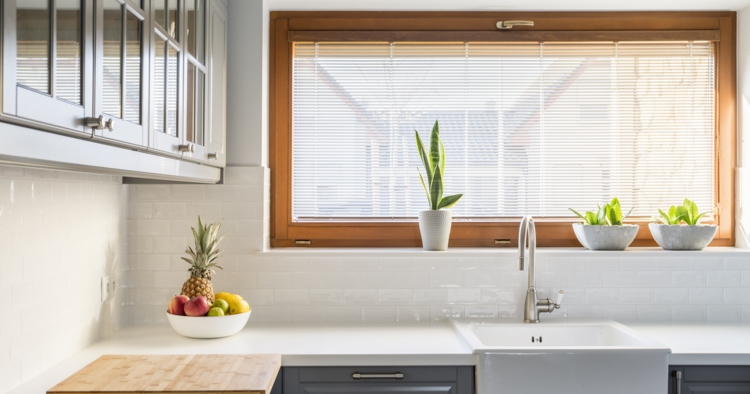 Incorporate Your Utensils
If you have brightly colored utensils, or stylish tools that can be incorporated into your kitchen transformation make use of them.
Find a utensil holder which allows them to be shown off instead of being hidden in a drawer, or hang your pots and pans from wall hooks. The same is true for your apron and potholders, as mentioned. Use your adhesive hooks to show them off.
Tasteful gadgets such as timers and spoon holders are another great option to incorporate into your transformation.
Install Removable Backsplash and Tile
These tiles can be found at any home improvement store. You can save time and money by using a small number of new tiles only in certain areas. You would be surprised at how different your kitchen will feel even if only a small chunk of the removable tile is placed behind the stove or around the sink area.
Another benefit is any grease buildup on tiles placed around the stovetop can be easily replaced or removed when moving out.
Find Fun Window Treatments
Show off your decorating skills from the outside as well as the inside of your home by placing decorations on your kitchen's window sill. By doing this, people outside can see them as well.
If your kitchen lacks a window, place a curtain rod above your sink to give the illusion of a window. Window treatments are one of the easiest and most noticeable ways to transform any room in a home.
Search for pre-existing holes where previous tenants might have had curtain rods, this way you minimize new damage and it provides a template for easy installation.
You might be able to use adhesive hooks or magnetic options as well.
Light Up the Room
Battery-operated lighting is extremely beneficial in apartments. Without any bulky hardware and installation, it is a cheap alternative way to brighten up dull spaces.
Stylish options are available, and some are made specifically for use under cabinets or countertops. If you are satisfied with how your stovetop is decorated leave the overhead light turned on to illuminate the area more.
Adequate lighting in your kitchen gives more visibility to perform tasks and creates a sense of warmth.
Use a Leaning Bookshelf to Create an Open-Shelving Concept
Thinking outside the box can help you create much-needed countertop space and give you a convenient and stylish way to use your appliances as art
A leaning bookshelf typically has shelving that starts small at the top and gets larger toward the bottom giving it the "leaning look."
Store your toaster, coffee maker, and baskets with your favorite coffee blends and tea on it. You can create a similar effect with a small ladder and use it for hand dishtowels.
Choose Quality Decals, Prints, or Temporary Wall Paper
You don't need paint to create an accent wall. Instead, try to find apartment-friendly adhesives for your kitchen. A quick warning though, make sure you choose a trustworthy brand. The last thing you want is to lose your deposit because the adhesives ripped off the paint when you attempted to remove it.
Incorporate a Plant
A little green can bring a room to life, just don't forget to water your favorite plant. You can hang plants or have special shelving to display them.
You can also incorporate a cute hydroponic herb garden, so all your seasonings are always fresh.
Make Use of the Space Near the Ceiling
If you have a gap of space between the countertops and the ceiling, you can make use of the space by incorporating various sizes of vinegar bottles to incorporate color and draw the eyes upward.
It doesn't have to be vinegar bottles, it can be something more interesting, colorful, or meaningful instead.
Keep It Clean
A clean kitchen is a happy kitchen. If you have a habit of leaving dishes in the sink, then the space will always feel cluttered and dirty. This might be hard at first, especially if you have a large family, but once you make it a habit, you'll never look back to your old ways.
Sometimes, it also helps to incorporate everyone in the house by establishing the expectation that they should clean their dishes after every use
Transformation options in your apartment kitchen are practically endless. Try experimenting with unique ideas which show off your interests and personality. Invasive remodeling isn't necessary to completely transform the look of any room in your home.
With the right amount of attention to detail, you can have great results on a budget while also staying within lease terms by limiting irreversible damage.