In OKC apartments, you might not have the luxury of having a separate room as an office. Limited space is already heightened when there are multiple residents. However, that doesn't mean you can't carve out an area for a desk.
A little creativity (and a lot of elbow grease) goes a long way. Whether you're trying to squeeze in a drafting table or creating a full-blown study, here are some tips for creating a stylish office space in OKC apartments.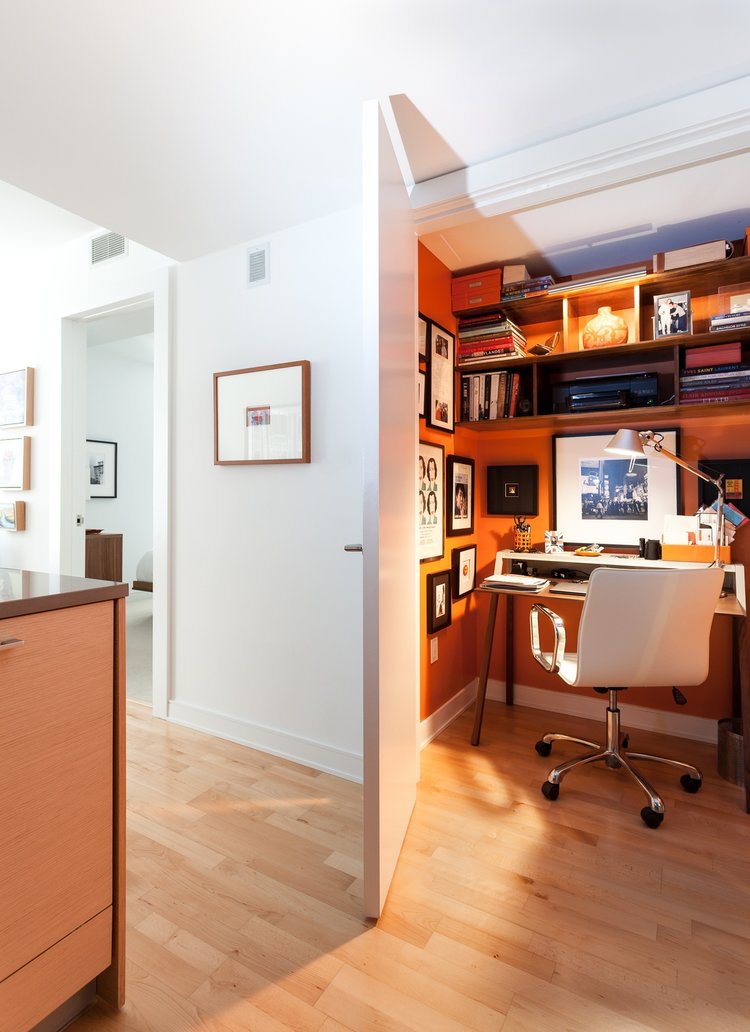 Mapping Your Canvas
First, there are three steps to creating a home office space in OKC apartments:
Step 1: Open up some square footage.
Step 2: Identify an unused area of your home.
Step 3: Shop for a small desk (multi-purpose, if possible).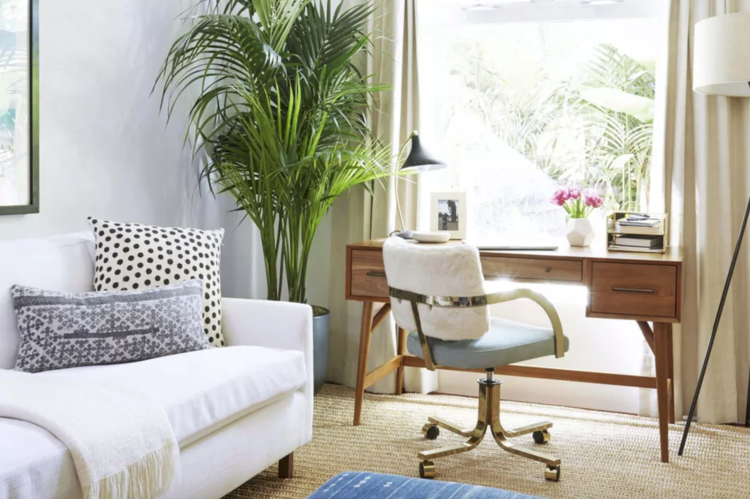 Sometimes, rearranging the furniture in a living room or bedroom can give you the square footage you need for an office. To create an open flow, try placing your sofa or other large furniture along the longest wall. Then, arrange your desk directly in front of the window. This creates a larger center space, preventing any feelings of crowdedness.
Photo courtesy of Emily Henderson.
Filling Your Space
Next is the second part of the design process. Evaluate your space, assessing its pros and cons. Then, identify the proper size and type of desk you'll be using. This is where that creative thinking comes into play. Look for unassuming areas of your home that aren't being utilized. Then, choose one of these desk options to construct a stylish (yet practical) office setup.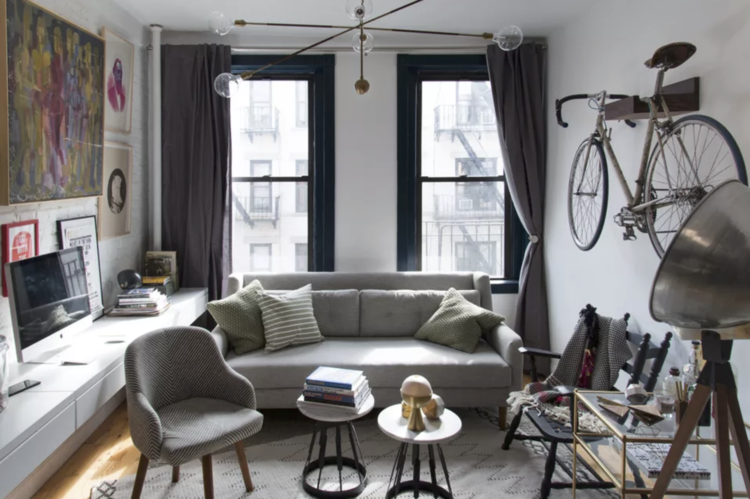 WALL-MOUNTED CONSOLE
Who said your desk needed legs? A wall-mounted console is a practical option for OKC apartments. Not only does it provide an ample amount of workspace but the accent chair can also provide extra seating when guests visit. Remember to check with your apartment manager prior to installation.
Photo courtesy of Patrick Janelle.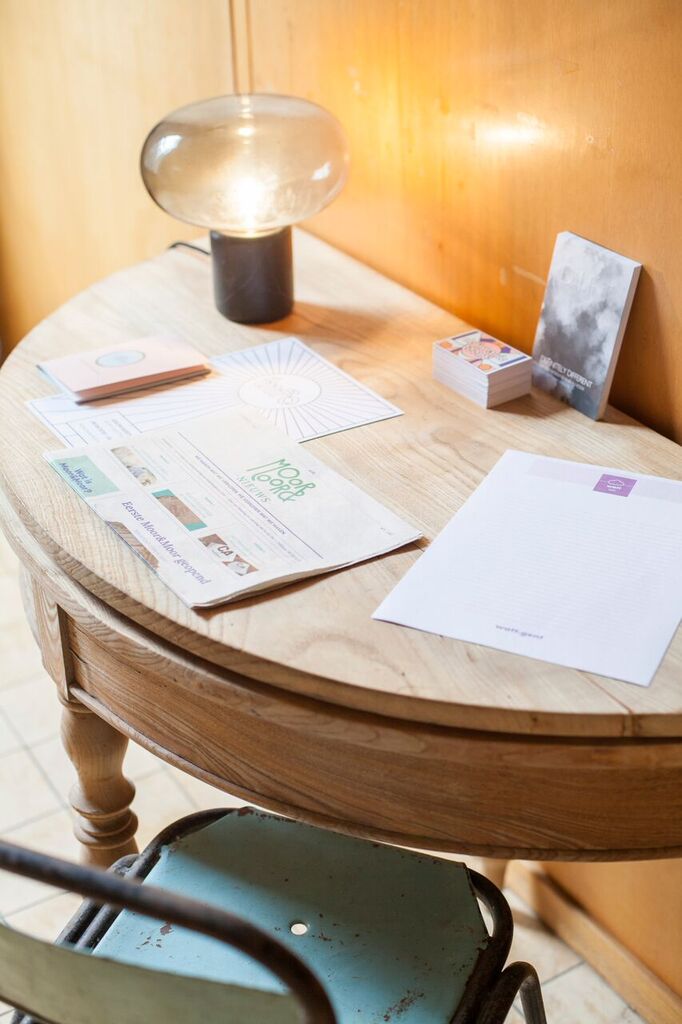 DEMILUNE TABLE
A demilune table, commonly used for hallways and entryways, is a great small desk option if you're just working with a laptop. You can place one of these tables behind a sofa or up against a blank wall. When you're not working, it can serve as a traditional console. And when you need to use the computer, you can pull up a chair or ottoman.
Photo courtesy of Flodeau.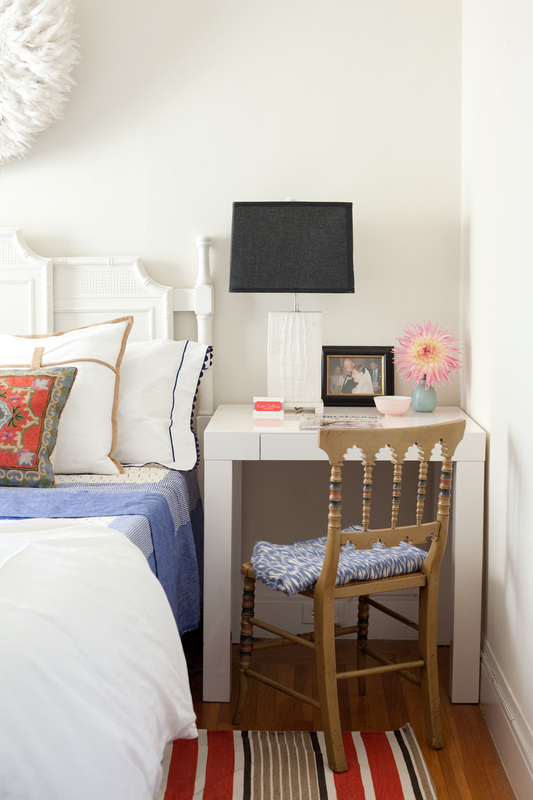 END TABLE
When you're working with limited space in OKC apartments, it's wise to enlist the help of multi-functional furniture. Place a small desk next to your sofa in the living room or have it serve double-duty as a nightstand in a bedroom.
Photo courtesy of Kate Collins Interiors.
CLOSET DESK
Don't have the square feet to spare? Think outside (or in this case, inside) the box. Utilize a spare closet and transform it into an office. Choose a narrow, low-profile desk and utilize vertical shelving for storing books or a printer. Another benefit of using a closet is once you're finished working, you can just close the door and slip into relaxation mode.
Photo courtesy of Popp Littrell Architecture and Interiors.
Tired of Sifting Through Countless OKC Apartments?
Our Northstar communities are established in prime locations of Oklahoma City, Edmond, Norman, and Tulsa. Contact us today to schedule a tour of one of our many award-winning apartments!